Sangkhalok – the Unique Handicraft of Sukhothai creating Sustainable Income
The Sangkhalok is a unique product of Sukhothai, reflecting the exceptional art and pottery skills of the locals throughout the generations. Developed into products over time, these fine handicrafts generate sustainable revenue for the local community.

For over 700 years, Sangkhalok has proven to be the signature product of Sukhothai – characterized by its graceful design, meticulous patterns, and fine coating. Each piece reflects the exception craftsmanship of the locals in each generation. After being developed to create business value, the Sangkhalok has proven to be a source of sustainable revenue for the community.


Sangkhalok

"Sangkhalok" is a Thai name for coated or uncoated stoneware, which are crafted in the forms of cups, bowls, accessories, sculptures, and architectural masterpieces. During the late 19th to the early 22nd Buddhist centuries, Sangkhalok is popularly crafted in many provinces – especially Sukhothai. According to historical records, Sukhothai craftsmen were always renowned for their pottery skills. They accumulated skills via self-learning and foreign cultural influences, such as those from Cambodia, Mon, China, and Vietnam. Their fine skills led to the creation of the Sukhothai Sangkhalok – a product celebrated throughout the kingdom and beyond. The products were mostly crafted at the old town of Sawankhalok – the present-day location of Si Satchanalai. Many believe that the name "Sangkhalok" may be a deviation from "Sawankhalok" – the origin of the stoneware during ancient Sukhothai.


Photo: Tananyaa Pithi / Shutterstock.com

The Uniqueness of Sangkhalok Design and Patterns

The heart of crafting the Sangkhalok is the "Turiang Kiln" – a unique kiln for crafting clay cups and bowls during the Sukhothai period. The kilns were used during the 19th to early 22nd Buddhist centuries. The two main venues for crafting Sangkhalok in Sukhothai are as follows:

1. Sukhothai Sangkhalok Crafting Area, Muang Kao Sub-district, Muang District, Sukhothai Province. This production center is used for crafting earthenware, with a coated surface and black patterns. The Sangkhalok crafted in this area is generally designed to be used as utensils and household equipment. Craftsmen also use the facilities for clay burning to remove moisture and inspect their potteries for cracks and surface damage.


Photo: phraruangheritage.com

2. Si Satchanalai (previously the old town of Sawankhalok) Crafting Area, Si Satchanalai district, Sukhothai province. Many kilns are found in this area, producing Sangkhaloks with superior quality, shape, design, and décor. The kilns in Si Satchanalai have produced many types of products, such as celadon, white-coated stoneware, brown-coated stoneware, two-tone coated stoneware, and non-coated stoneware.


Photo: phraruangheritage.com

Each piece of Sangkhalok is characterized by its unique and intricate patterns. Sukhothai craftsmen are renowned for their exceptional skills in creating graceful patterns and design. All patterns are created in a freehand manner, requiring high level skills and expertise. Patterns are classified into the follow categories:

1. Floral and Plant Patterns: Lotuses, Peonies, Chrysanthemums, Bullet Woods, "Kan Kod" pattern, "Kan Bang" pattern, grasses, "Kor Prong" pattern, and seaweeds.

2. Animal Patterns: Fish (single and in pairs), Naga Serpent, Dragons, and Swans

3. Mirror Patterns: Hexagonal, Octagonal, and Lotus Petal Mirror Patterns

4. Geometrical Patterns: Parallel-Column Pattern, Tabular Pattern, Crosses in Vertical Squares, Parallel Circle Patterns, Serrated Line Pattern.

5. Miscellaneous Patterns: Wave Pattern, Arrowhead Pattern, Sergeant's Chevron Pattern, Sun Pattern, Cloud Pattern, Disc Pattern, Constellation Pattern.


Photo: phraruangheritage.com

Photo: phraruangheritage.com

Although most people perceive Sangkhalok only in the form of celadon with black patterns, the stoneware can actually be classified into many categories:

1. Non-coated: Non-coated Sangkhalok is believed to be the first types produced, before the development of kilns and coating chemicals.

2. Color-coated: The discovery of china and Vietnamese porcelain in Sukhothai led to the assumption that these foreign cultures introduced the local craftsmen to the art of coating stoneware. The continuous developments of coating chemicals and glazing procedures led to the creation of Sangkhalok masterpieces – making Sukhothai well-renowned for the handicraft. The signature glazed color of Sukhothai's Sangkhalok is celadon.

3. Color-coated with Patterns: Many believe that this type of Sangkhalok was developed based on Chinese and Vietnamese influences. The Sukhothai craftsmen, however, adjusted the minerals in the water color for creating patterns to be more locally-suitable. They applied oxide from metals abundantly available in their surroundings as an additional ingredient. These metals might have been extracted from the soil or laterite. The oxide is responsible for the black patterns of Sukhothai Sangkhalok, which is different from the indigo patterns of Chinese and Vietnamese porcelains.


Photo: phraruangheritage.com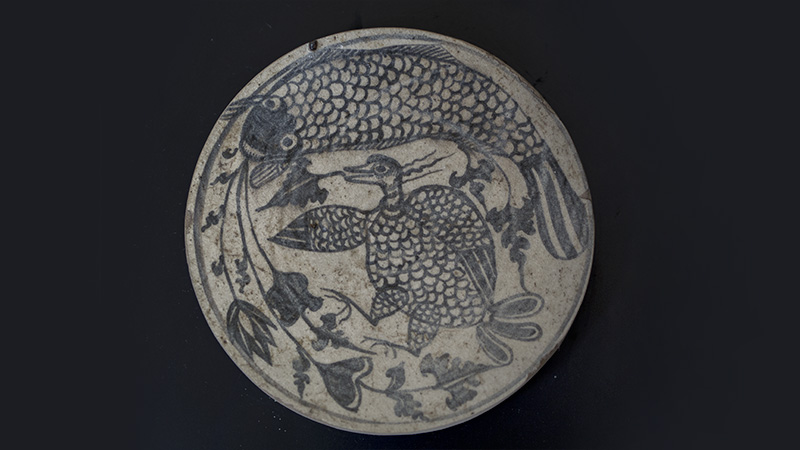 Photo: phraruangheritage.com

Sangkhalok Craftsmen Community of Sukhothai

The Designated Areas for Sustainable Tourism Administration (Public Organization), also known as DASTA, delegated its special zone office overseeing the Sukhothai, Si Satchanalai, and Kampaengphet National Parks to support the development of Sangkhalok in the area. This led to the development of a creative tourism destination at Ban Mai Tapung Tong Community in Muang Kao subdistrict, Muang district, Sukhothai province. The community specializes in handcrafting glazed, celadon Sangkhalok with fine details. Each piece of stoneware is highly valuable. Another creative tourism venue is the Ban Koh Noi Community at Si Satchanalai district. The community is famous for applying authentic Sukhothai patterns and coating chemicals to create its Sangkhalok masterpieces. Moreover, many Sangkhalok figures and sculptures are created at the community. Visitors can participate in workshops to make their very own Sangkhalok clay figures. They may also learn about the "Tookta Seakbal" – unique clay dolls crafted to portray different human postures.


Photo: J. Lekavicius / Shutterstock.com

Ban Koh Noi Community Contact Information:

Address: 139/1 Moo 5 Nong Aor Subdisrict, Si Satchanalai
Tel: 0953141380

Sangkhalok, a cultural heritage of Sukhothai, has been preserved and continuously developed over the course of history. The stoneware reflects a history of interconnectedness between surrounding communities. It is imperative for locals and visitors to understand and appreciate the value of this cultural heritage, preserving and developing it in all the years to come.

Source:
ctthailand.net
sukhothaicraftsandfolkart.com
museumthailand.com